What It's Worth: Strengthening the Financial Future of Families, Communities and The Nation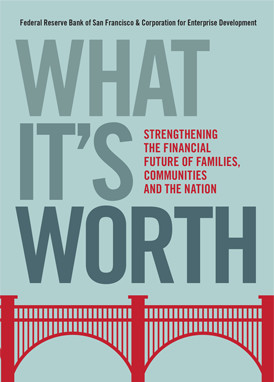 What It's Worth: Strengthening the Financial Future of Families, Communities and the Nation, makes clear why every household's financial health matters for the U.S. economy to thrive.
The book demonstrates how those who work outside traditional financial capacity building in education, health, housing, workforce training, justice and other sectors play a critical role in removing barriers to financial health and well-being.
Through more than 30 essays authored by experts from across a broad range of fields, What It's Worth provides a 360-degree view of the financial problems and challenges millions of American households face, the enormous creativity and innovation already happening to increase financial well-being, and how we can implement proven and emerging solutions.
Editors: Laura Choi and David Erickson, Federal Reserve Bank of San Francisco; Kate Griffin and Andrea Levere, Prosperity Now; Ellen Seidman, Urban Institute
Partners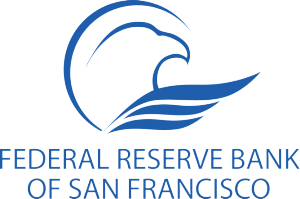 The Federal Reserve Bank of San Francisco, with branch offices in Los Angeles, Seattle, Salt Lake City and Portland, and a cash processing office in Phoenix, provides wholesale banking services to financial institutions throughout the nine western states. As the nation's central bank, the Federal Reserve System formulates monetary policy, serves as a bank regulator, administers certain consumer protection laws and is fiscal agent for the U.S. government. Follow us on Twitter.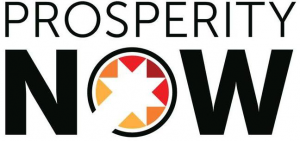 Prosperity Now (formerly CFED), a national nonprofit 501(c)3 organization, empowers low- and moderate-income households to build and preserve assets by advancing policies and programs that help them achieve the American Dream, including buying a home, pursuing higher education, starting a business and saving for the future. As a leading source for data about household financial security and policy solutions, Prosperity Now understands what families need to succeed. We promote programs on the ground and invest in social enterprises that create pathways to financial security and opportunity for millions of people. Additional information can be found at prosperitynow.org.
Funding Support Provided to Prosperity Now By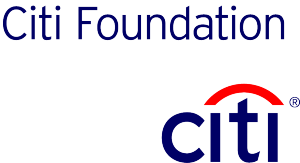 The Citi Foundation works to promote economic progress and improve the lives of people in low-income communities around the world. We invest in efforts that increase financial inclusion, catalyze job opportunities for youth, and reimagine approaches to building economically vibrant cities. The Citi Foundation's "More than Philanthropy" approach leverages the enormous expertise of Citi and its people to fulfill our mission and drive thought leadership and innovation. For more information, visit www.citifoundation.com.